~
The Adventures Of Tintin: Secret of the Unicorn [DVDR NTSC] [Latino 5.1/Ingles 5.1] Con Extras !!
-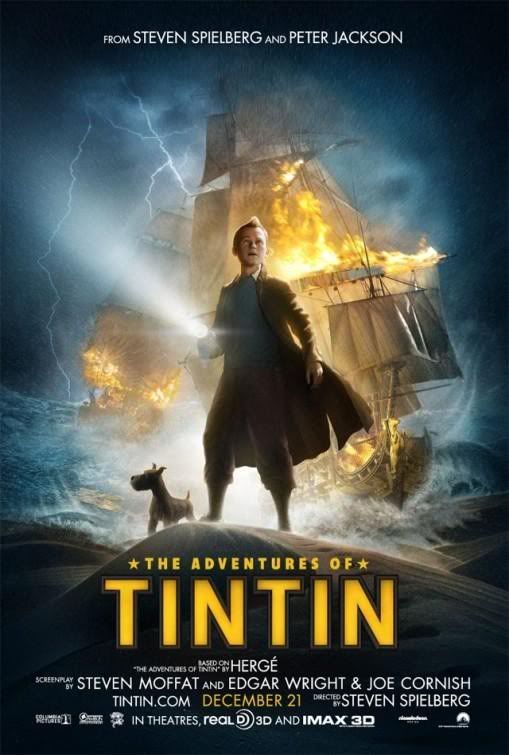 -
TÍTULO ORIGINAL: The Adventures of Tintin: Secret of the Unicorn
AÑO: 2011
DURACIÓN: 107 min.
PAÍS: Estados Unidos
DIRECTOR: Steven Spielberg
GUIÓN: Steven Moffat, Edgar Wright, Joe Cornish (Cómic: Hergé)
MÚSICA: John Williams
FOTOGRAFÍA: Animation
REPARTO: Animation, Jamie Bell, Andy Serkis, Daniel Craig, Simon Pegg, Nick Frost, Daniel Mays, Toby Jones, Enn Reitel, Joe Starr, Mackenzie Crook, Kim Stengel, Gad Elmaleh, Tony Curran, Cary Elwes, Sebastian Roché
PRODUCTORA: Amblin Entertainment / Paramount Pictures / Sony Pictures Entertainment
GÉNERO: Animación. Aventuras | Cómic. 3-D
-
Trailer Online :
-
http://www.youtube.com/watch?v=AC1lQ7MsKIY
-
INFO :
Formato...............: DVD/R1
Norma.................: NTSC
Pantalla..............: 16:9
Audios................: Ingles 5.1 / Español Latino 5.1
Subtítulos............: Ingles / Frances / Español Latino
Menú..................: SI
Extras................: Si
-
SINOPSIS :
Tintín, un joven periodista dotado de una curiosidad insaciable, y su leal perro Milú descubren que la maqueta de un barco contiene un enigmático y secular secreto que deben investigar. Así es como Tintín se encuentra en el punto de mira de Ivan Ivanovitch Sakharine, un diabólico villano que cree que el joven ha robado un valioso tesoro vinculado a un cruel pirata llamado Rackham el Rojo. Pero con la ayuda de Milú, del mordaz y cascarrabias capitán Haddock y de los torpes detectives Hernández y Fernández, Tintín viajará por medio mundo, sirviéndose de su proverbial astucia para burlar a sus perseguidores y encontrar antes que ellos El Unicornio, un navío hundido que puede proporcionar la clave de una fabulosa fortuna y de una antigua maldición.
-
Capturas :
-
-