~
Journey 2 - Viaje 2 : La Isla Misteriosa - 2012 [Fantasia] [Cam] [Audio Latino]
-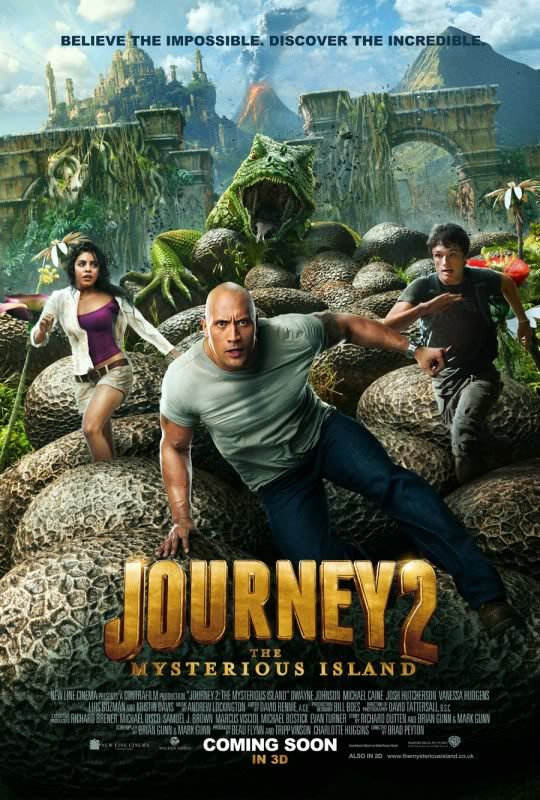 -
Título: Viaje al centro de la Tierra 2: La isla misteriosa
Título original: Journey 2: The Mysterious Island
País: USA
Productora: New Line Cinema, Walden Media, ContraFilm
Director: Brad Peyton
Guión: Richard Outten & Eric Brevig
Reparto: Josh Hutcherson, Dwayne Johnson, Michael Caine, Vanessa Hudgens, Kristen Davis
-
Trailer Online :
-
-
INFO :
Formato : AVI
Tamaño del archivo : 1,03GIB
Duración : 1h 25min.
Tasa de bits total : 1 720Kbps
ID Códec : XVID
Tasa de bits : 1 520Kbps
Ancho : 720pixeles
Alto : 440pixeles
-
SINOPSIS :
Esta secuela de "Viaje al centro de la tierra" del 2008: "VIAJE 2: LA ISLA MISTERIOSA", la nueva aventura familiar comienza cuando Sean Anderson (Josh Hutcherson retomando su papel de la primera película) recibe una señal de socorro codificada proveniente de una isla misteriosa de donde se supone no debe haber ninguna isla. Es un lugar de formas de vida extrañas, montañas de oro, volcanes mortales y muchos secretos impresionantes. Sin poder evitar que él vaya, el nuevo padrastro de Sean, se une a la aventura. Juntos con un piloto de helicóptero (Luis Guzman) y su hermosa y empecinada hija (Vanessa Hudgens), se preparan para descubrir la isla, rescatar a su solitario habitante y escapar antes de que movimientos sísmicos hundan la isla y entierren sus tesoros para siempre. "Viaje 2: La isla misteriosa" es dirigida por Brad Peyton ("Cats & Dogs: The Revenge of Kitty Galore"). Tiene a Michael Caine como el abuelo de Sean, Alexander Anderson, y a Kristin Davis como la mamá de Sean, Liz Anderson. La película es producida por Beau Flynn & Tripp Vinson y Charlotte Huggins bajo el guion de Brian Gunn & Mark Gunn de una historia de Richard Outten. Como productores ejecutivos están Michael Bostick, Evan Turner, Marcus Viscidi, Richard Brener, Samuel J. Brown y Michael Disco. David Tattersall ("Gulliver's Travels") es el director de fotografía, Bill Boes ("Fantastic Four") es el director de arte, Denise Wingate ("Wedding Crashers") es la diseñadora de vestuario y el nominado al Premio de la Academia© Boyd Shermis ("Poseidon") es el supervisor de efectos visuales.
-
Capturas :
-
-